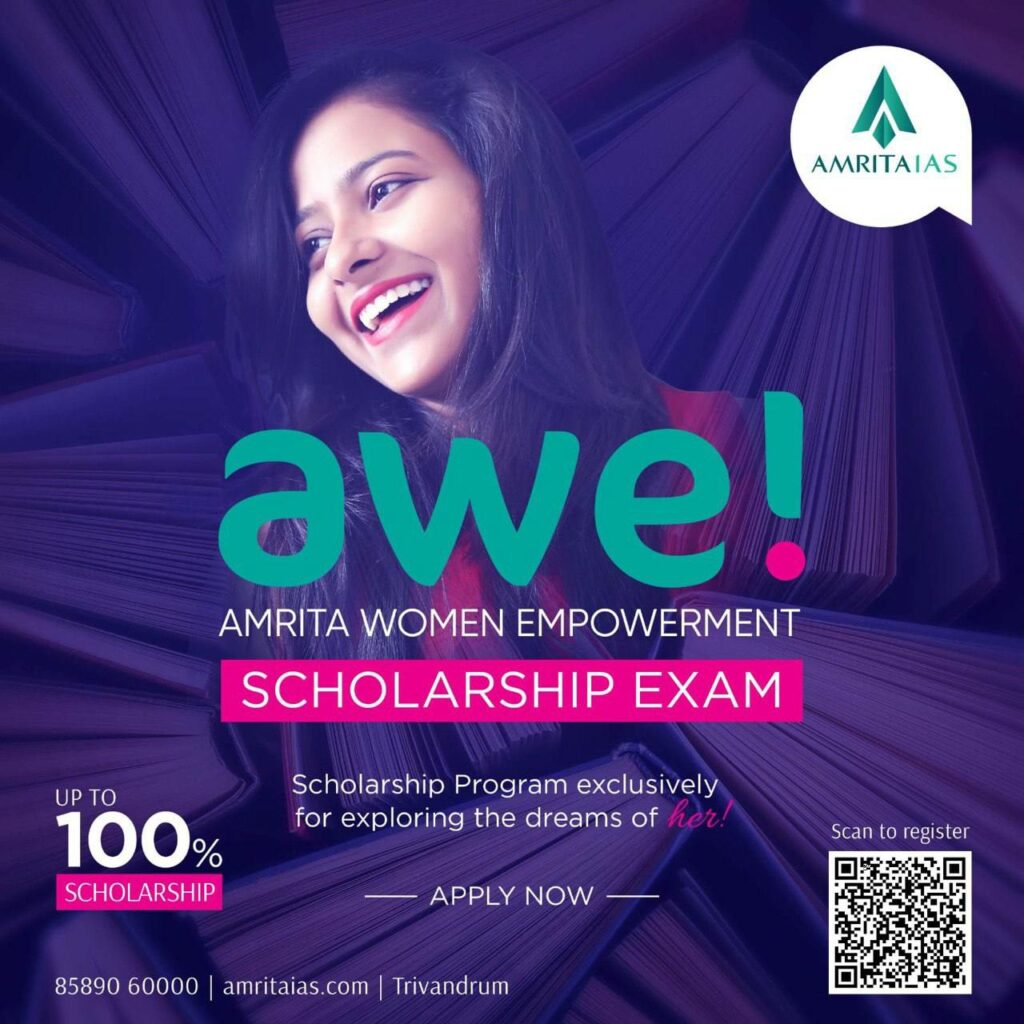 The Amrita Women Empowerment (AWE) Scholarship Exam is a transformative opportunity presented by the Amrita IAS Academy to uplift and empower aspiring women who aspire to conquer the realm of civil services through the UPSC (Union Public Service Commission) examination. This distinguished scholarship program is aimed at not only narrowing the gender gap prevalent in the civil services domain but also at providing deserving women with a unique chance to receive comprehensive coaching, guidance, and support for the UPSC journey.
The AWE Scholarship Exam serves as the gateway for eligible candidates to secure admission to the esteemed UPSC coaching program at the renowned Amrita IAS Academy. This comprehensive program covers all facets of the UPSC syllabus, including general studies, optional subjects, current affairs, and interview preparation, ensuring a well-rounded preparation experience.One exceptional facet of the AWE Scholarship Exam is that Amrita IAS Academy will generously sponsor the education of one meritorious student for the academic year 2023-2024. This act of benevolence and commitment to women's empowerment not only eases the financial burdens associated with UPSC coaching but also serves as a catalyst for change, encouraging more women to step into the world of civil services and make their mark in governance and public administration.
Recipients of the AWE scholarship will benefit from expert faculty, tailor-made study materials, and a supportive learning atmosphere, enabling them to not only excel in the UPSC examination but also to foster qualities of leadership, resilience, and self-assurance.
In summary, the AWE Scholarship Exam by Amrita IAS Academy is a remarkable initiative that extends a helping hand to deserving women, enabling them to realize their aspirations of becoming successful civil servants. Through financial support, expert guidance, and a commitment to fostering gender diversity, Amrita IAS Academy paves the way for a brighter and more inclusive future in the realm of civil services.